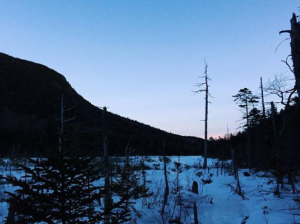 Greeley Pond trail was recommended to me as a beginner's hike. The trail was relatively flat and brought travelers to Upper and Lower Greeley Ponds. My friend and I decided to see for ourselves what this trail had to offer.
Although spring has finally sprung in Plymouth, it is still winter in the mountains. Dawned with snowshoes, we drove down the Kancamagus highway to the Greeley Ponds Trailhead. We began our trek through the boreal forest to find a few stream crossings. There was still a decent amount of snow in this area.
We had begun our journey later in the day but we didn't seem to even think about the time. We gossiped and had deep conversations while making our way down the trail. We came to the first pond as we descended a slippery slope towards the shore. It was then that we noticed how low the sun was. While at the pond, we witnessed the sun begin to set and decided it was time to head back.
With the sun behind the mountains, the temperature dropped quickly as we hurried our way out the woods. By the time we had reached the car, it was almost completely dark. Overall, the hike didn't prove too difficult but did prove that conditions in the mountains are much different than that of the valley.