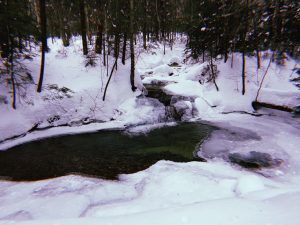 This week's adventure took me north. A couple of friends from Rhode Island were up visiting and I wanted to show them some of New Hampshire's natural beauties. The plan for the day altered the night before due to a clumsy fall of mine on a patch of ice. With a sore ankle, I decided to lower the level of difficulty for our hike. Stephanie, Lisa, and I loaded up the car and drove north on I-93. The forecasted high for the day lingered around 18 degrees. My friends were not as acclimated to the cold weather as I was.
Once in Franconia Notch, we pulled off the highway to hike down the Basin – Cascade  Trail. I gave each of my friends a pair of microspikes and we were off. With the smell of gasoline lingering in the air, the beginning of the trail was littered with snowmobiles. We quickly made our way off of the snowmobile trail and deeper into the woods. As we came upon the Basin, my friends were amazed at the blueish-green water rushing into the deep pool.
The trail continued on an even grade through the snow-covered forest and to our left ran the Cascade Brook. Although my ankle was in rough shape, I was happy that I got to show my friends some of our natural treasures here in New Hampshire. I wanted to show them some of the places that have inspired me to pursue an education in the environmental sciences. Coming to New Hampshire and experiencing the beauty of the nature that surrounds us, has shaped me into the person I am today.